A top Notch Workout Regimen is a mini-update that launched on January 21, 2015 and ran until January 27, 2015 at 3:00 Pacific Time. It featured 2 new characters: Barnaby and Phineas , as well as a few new decorations and buildings and a Steroid Stewie outfit. Human Rupert is also available with this update.
New Characters and Outfits
Edit
If you build one of these buildings you have 5 days to unlock Phineas and Barnaby
Limited time buildings
Edit
There will be Joggers ( male and female ).They will Spawn every 3-4 hours for a MAX of 10 each in your Quahog at one time. So TOTAL MAX of 20. (10 Males & 10 Females.). Male Jogger : drops Triangular weights and eggs Female Jogger : drops Triangular weights and Steak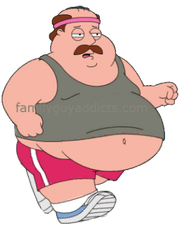 Ad blocker interference detected!
Wikia is a free-to-use site that makes money from advertising. We have a modified experience for viewers using ad blockers

Wikia is not accessible if you've made further modifications. Remove the custom ad blocker rule(s) and the page will load as expected.