| | |
| --- | --- |
| Beginning of Event | 21:00 PST, May 23, 2014 (Friday) |
| End of Event | 12:00 PST, May 26, 2014 (Monday, Memorial Day) |
Description of This Event
Edit
This event was about the wild ones! Join Peter and Chris by buying 3 Premium Decorations! And if you do, you can earn a FREE, Limited Building just for yourself!! Holy Crap that is AWESOME! (Too bad it barely lasts... crap...)
Limited Quests
Edit
Limited Edition Decorations
Edit
| Decoration | Cost | Animated | Store Description |
| --- | --- | --- | --- |
| Guardian Crab | 25 | Yes | C'mon. You know you want it. |
| Lawn Tiger | 50 | Yes | C'mon. You know you want it. |
| Peterdactyl | 100 | Yes | C'mon. You know you want it. |
* The Peterdactyl in this update was already in the game, but you have to buy it still too get The Fancy Restraunt.
Limited Edition Buildings
Edit
Building
Cost
Produces
Store Description
Drops
The Fancy Restraunt
40
25
C'mon. You know you want it.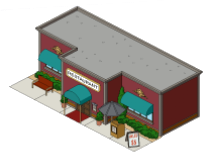 Limited Edition Characters/Outfits/NPC's
Edit
None
Ad blocker interference detected!
Wikia is a free-to-use site that makes money from advertising. We have a modified experience for viewers using ad blockers

Wikia is not accessible if you've made further modifications. Remove the custom ad blocker rule(s) and the page will load as expected.