The imperial sarcophagus is available only during the Kingdom of the Full Moon event. It's costs 50

and contains materials to create 80s Pop Star Cleveland.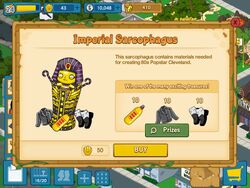 This Sarcophagus is only offered to those players that haven't already created 80s Pop Star Cleveland.
Ad blocker interference detected!
Wikia is a free-to-use site that makes money from advertising. We have a modified experience for viewers using ad blockers

Wikia is not accessible if you've made further modifications. Remove the custom ad blocker rule(s) and the page will load as expected.