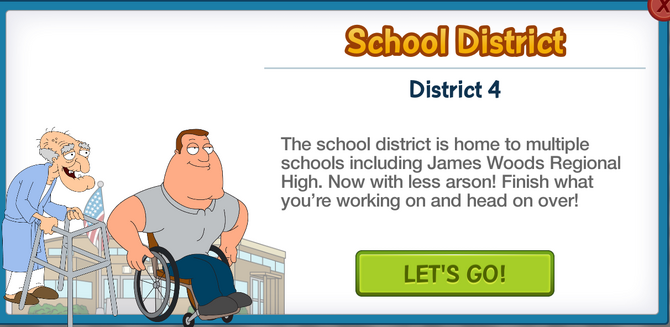 The School District is the fourth district in Family Guy: The Quest For Stuff, and it's known for it's "top notch" education, even though the kids don't have sex ed. Along with schools, you can place food vendors, a daycare, and Anal Point. It's also the first district in the game to have a high scale invasion(in this case, The Lost Boys)
New Characters and Outfits
Edit
New Quests
Edit
| Quest | Reward Money | Reward Exp |
| --- | --- | --- |
| The Lost Boys Pt. 1 (requires Enter the School District, Clear the Block) | 200  | 130  |
| The Lost Boys Pt. 2 (requires Build the Tiny Tots Preschool) | 200  | 130  |
| The Lost Boys Pt. 3 (requires Calm the Kids with Jerome's Afro) | 200  | 130  |
| The Lost Boys Pt. 4 (requires Repair the High School, Help Joe Get Stuff) | 400  | 260  |
| The Lost Boys Pt. 5 (requires Clear the Wild Brats, Beer Skeet Shooting with Joe) | 200  | 130  |
| The Lost Boys Pt. 6 (requires Respect Beer O'Clock with Peter) | 200  | 130  |
| 21 No Jump Street Pt. 1 (requires Build Anal Point) | 200  | 130  |
| 21 No Jump Street Pt. 2 (requires Perform Cripple Tricks) | 200  | 130  |
| 21 No Jump Street Pt. 3 (requires Quagmire Likes to Play Mace Tag with Joe) | 300  | 195  |
| Fretters Anonymus Pt. 1 (requires Bruce Pass out Flyers) | 200  | 130  |
| Fretters Anonymus Pt. 2 (requires Bruce Fret in Line) | 200  | 130  |
| Fretters Anonymus Pt. 3 | 300  | 195  |
| Black Men Can't Throw Pt. 1 (requires Jerome is a Superior Athlete) | 200  | 130  |
| Black Men Can't Throw Pt. 2 (requires Peter does Ethnic Handshake with Jerome) | 200  | 130  |
| Black Men Can't Throw Pt. 3 | 300  | 195  |
| Cash Money Mort Pt. 1 (requires Mort Obssesively Count Cash) | 200  | 130  |
| Cash Money Mort Pt. 2 (requires Collect 500 Coins, Place Hillbilly ATM) | 200  | 130  |
| Cash Money Mort Pt. 3 | 300  | 195  |
| Brokeback Playground Pt. 1 (requires Build the Playground, Help Herbert Get Stuff) | 400  | 260  |
| Brokeback Playground Pt. 2 (requires Declare his Love for Chris) | 200  | 130  |
| Brokeback Playground Pt. 3 (requires Help Herbert Make Popsicles) | 300  | 195  |
| Suck It Up | | 10  |
Clearing Blocks
Edit
| Area to Clear | Cost | Time |
| --- | --- | --- |
| 1 | 3000  | 8:00:00 |
| 2 | 4000  | 8:00:00 |
| 3 | 4500  | 8:00:00 |
| 4 | 5000  | 10:00:00 |
Unlocking the Next District
Edit
After completing the main quest of the School District, Peter then suggests that you move on to the Pirate's Cove district, when upon completion of the Quahog Wharf, a bunch of pirates run amok in Quahog. Peter comes across Seamus at the Lighthouse and then he is reluctantly forced by the pirates to rescue Meg/The Quahog Seahog from Quahog Oceanland, with very little effort.
Ad blocker interference detected!
Wikia is a free-to-use site that makes money from advertising. We have a modified experience for viewers using ad blockers

Wikia is not accessible if you've made further modifications. Remove the custom ad blocker rule(s) and the page will load as expected.