| | |
| --- | --- |
| Beginning of Event | 15:00 PDT November 7, 2014 |
| End of Event | December 4, 2014 |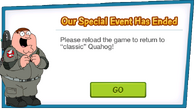 This new event was released a hour after the ending of the Ghostbusters: Quahog's Halloween 2014 event. It featured many new buildings right off the bat from the Quahog Clam Festival, and the Smiths family. The update contained also an option to NUKE (yes, nuke (see: Nuke)) your town, which is placing everything to the inventory. You need the Shopping Center district to participate. Did you checked out the new tasks for Chris, Peter, Jerome, Bonnie and the rest?
Don't forget: EVERY WEEK COMES NEW CONTENT!
Event Overview
Edit
Description (from the Google Play Store)
It's the time of the year where Quahog goes cray cray for clams. That's right, this month is the Quahog Clam Festival! You know what else is cray cray? Quahogians have reported an alien walking around. Could it be Roger from American Dad? Yes!! Don't be surprised if Stan, Steve and the rest of the Smith family make an appearance.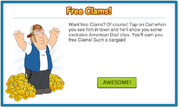 Currency
No new currency! We can use our old coins, and clams. But you can tap on Carl who's walking around your Quahog (mostly on the street and nearly the Griffin House; he respawns at the same place) and watch an American Dad clip which takes around 10 to 20 seconds (Reward: 2

; for Android users this feature was available since Monday, 17 November; during the second week of the American Dad event).
 Challenges
Edit
Yep, the event contained one challenge:
Week One
Edit
Here we go with the first week!
Week One Questlines Edit
All of them are available only for limited time!
New Characters

Stan Smith! The first character unlocked in this event. You can get him after building the Colonial Barn (appears in the store after finishing the "A Shellabration" quest line). He needs 20 Black Sunglasses, 10 Photo Evidences, 8 Classiefied Documents and 5 Crash Debris. So better collect those things while you still can!
New Buildings
Building

Cost

Produces

Store Description

Collecting

Time

Clam Festival Stage

500
30
20
4:00:00
Singing on this clam-shaped stage will make you feel like a cheap version of Venus de Milo!
Historical Clam Exhibition Hall

1,000
40
25
6:00:00
Better hurry. There's sure to be a line.
Colonial Barn

1,500
30
20
4:00:00
No, it's not a big deal that a UFO crashed into this two hundred year old barn.
Smith House

100
40
25
6:00:00
Good morning, USA. I've got a feeling that it's gonna be a wonderful day.
New Decorations
| Decoration | Cost | Animated | Store Description |
| --- | --- | --- | --- |
| Crop Circle | 400 | No | In alien it means, "For a good time call Roger." |
| Area 51 | 2,000 | No | Areas 1 through 50 house unicorn cars, big foot motorcycles, and a hot rod powered by Hitler's brain. |
| Undercover American Flag | 10 | No | When no one's looking he changes into a Canadian flag. |
New Stuff
Bitch Brian and Bitch Stewie weekend
Edit
See the full article about the event week here: Bitch Stewie & Brian Sub-Event
During the American Dad event has been released also a Bitch Stewie and Bitch Brian Sub-Event (released on Friday, 14 November during the first week of the American Dad event) where you could get trough the weekend characters like Bitch Stewie (with a time counter) and Bitch Brian (premium character). In this weekend you could also get limited time buildings like Spare Clone Machine and Bitch Brian Machine. There were also new NPC's (see: Bitch Stewie & Bitch Brian Squatters) which have dropped stuff for Bitch Stewie after clearing.
Week Two
Edit
Week Two Questlines
New Buildings
Building

Cost

Produces

Store Description

Collecting

Time

Groff Community College 

75
60
40
12:00:00
Technically it's still college.
Moon Bounce

100
40
25
6:00:00
Boing! Boing! Boing!
Come Back Buildings
All these buildings are back from the Quahog Comic Con!
New Decorations
| Decoration | Cost | Animated | Store Description |
| --- | --- | --- | --- |
| Clam Festival Sign | 750 | No | For those of you who can't read, the sign says "Welcome to Quahog Clam Day." |
| Campsite | 1,500 | No | Like sleeping in a hotel designed for smelly hippies. |
| Lunar Landing | 50 | No | Shot on the same soundstage as "Beethoven's 2nd" |
Ad blocker interference detected!
Wikia is a free-to-use site that makes money from advertising. We have a modified experience for viewers using ad blockers

Wikia is not accessible if you've made further modifications. Remove the custom ad blocker rule(s) and the page will load as expected.