Required to Complete
Edit
Let's use the money to rebuild the Swanson House to steal Joe's cable. It's better than buying boring stuff like health insurance.
(Build the Swanson House, and fulfill Bonnie's needs.)
(Tap the shopping cart in the bottom corner of your screen to buy the Swanson House.)

(After it has finished building...You found Bonnie!!!)

Hi, Peter. Joe's not here, but I found your emergency kit! Some things are missing, but if you help me find them, we can use it to start fixing things up.
Sure, Bonnie. As long as one of the things isn't spiders, I'm in.
I hate spiders.
Get the things Bonnie wants.
1

1
1

After you give all of the adrenaline to Bonnie...
Here's that adrenaline, Bonnie.
Even though we're doing nothing wrong, I still feel like I'll have to explain this to my wife.
After you give Bonnie all of the oregano...

You know what would go awesome with this oregano? 60 tacos.
After you give Bonnie all of the fireworks...
Nothing...
(After you have gone through all of that work, you unlocked Bonnie!)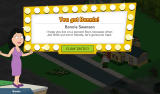 | Reward | Coins | Exp |
| --- | --- | --- |
| | 25 | 20 |
Things I learned:
When you build buildings, people come out!
Kind of a bummer that it was Bonnie, but let's be glad it wasn't Jodie Foster. We get it, you're proud of yourself.
Ad blocker interference detected!
Wikia is a free-to-use site that makes money from advertising. We have a modified experience for viewers using ad blockers

Wikia is not accessible if you've made further modifications. Remove the custom ad blocker rule(s) and the page will load as expected.